In the Summer of 2005 I was watching the HGTV show 'I Want That!' when they happened to do a segment on Uni-Solar's Photovoltaic Shingles. That looked like a great way to unobtrusively put Solar Panels on the roof. Further research into the possibility of installing this system on my roof brought me to the conclusion that the layout of my roof and the physical sizes that these PV shingles were manufactured in were not a good match. Furthermore, the power output based on those two factors would not make it worthwhile.
So, still interested in possibly installing a Solar PV system on my roof, I started looking around for other options. I soon found a wealth of options and decided I wanted to pursue this even further. In doing so I discovered Focus On Energy and the programs they had available to help make this project a little more affordable. Then there was these rumblings I'd been hearing in Washington about a possible Federal Tax Credit in 2006/2007, so it looked like the time might be right to do this.
Getting even more serious about installing a PV system I started to look around for Electrical Contractors to get quotes on installing a system. I was looking for NABCEP certified installers in order to maximum the grant from Focus On Energy. I was surprised that I was not able to find any in Milwaukee Wisconsin. In a City of that size one would think that there would surely be some? But no.
So I found two in Madison Wisconsin, 90 miles to the West and contacted both of them. H&H Solar (a.k.a. H&H Electric) got back to me rather quickly and was willing to stop by my place in Milwaukee and check it out. So in August 2005, Andrew Bangert from H&H was there, up on my roof scoping things out. The first thing, the four 40 foot Pine trees would have to go. Although not enthralled that I would have to cut these trees down if I were to install a PV system on my roof, I was still determined to continue. This visit by Andrew met the requirements that Focus On Energy mandates, to have a site survey done as part of the application, but, without me having to spend the few hundred dollars Focus On Energy wants you to spend to do it.
Sidebar: I'm no tree hugger by any stretch of the imagination, in fact, build more Coal fired Power Plants, stop using Natural Gas to fire Power Plants thus increasing the demand for NG which raises the price of NG for all of us. The U.S. has plenty of Coal, let's use it to fire our Power Plants and stop relying on foreign energy and use something we have right here at our disposal. Period! Burn Coal to make Electricity to power our Electric Automobiles, that's the ticket! And Nuclear is ok too. But, as far as the Pine trees go that I needed to cut down, my heart sank when that first one hit the ground. I do not like killing anything that grows to such magnificence and takes so long to do so, that, unfortunately, was a price I had to pay. So, based on this you can probably surmise that installing this system was not really due so much to the Green aspects of it, more so to the cost savings I will see on my monthly electric bill.
Shortly after Andrew stopped by I received a quote for the system, about 30% higher in price then I expected after initially talking with Andrew, but not out of the ballpark. So after hemming and hawing for a few months, and fielding calls from Andrew every once in a while, I decided to do it and signed the contract in early December 2005. I was still waiting for that other Electrical Contractor from Madison to stop by and give me a quote. I contacted them one last time and told them I was ready to move on this project but was told by them that they were not interested at that time, so H&H was the ticket.
And actually, H&H would have probably been the ticket anyway, I was impressed with H&H and Andrew and the follow through, so much so, that a cheaper price alone would not have been enough to consider another contractor. So, the bottom line is, if you're looking to do this in the Southern part of Wisconsin, go with H&H, not that other certified contractor that must not need the work, with H&H you won't be sorry.
The contract spec'd out 18 Kyocera 187 watt panels for a total of 3366 watts and a Magnetek Aurora PVI-3600-US Inverter. Although my target was 4000 watts up on the roof, once again given the layout of my roof, 3366 watts was about the best I could do without hanging panels left, right, upside down and what not. So 3366 watts it was.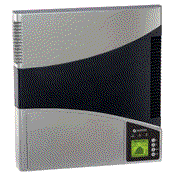 A word on the Aurora Inverter: I had been following this Inverter since early Fall of 2005, waiting for it to receive its UL approval so I could utilize it in this system. The Aurora Inverter has two unique features that I wanted the benefit of. First, it has two separate inputs so that 2 separate PV strings, or arrays depending on your terminology, can be connected to the Inverter. That feature alone has many benefits. Second, due to the Aurora's "Booster DSP control" circuitry the Inverter will continue to produce output power when the PV input voltage may be as low as 90 VDC. This feature was important to me because I was concerned about shading and losing the output of the shaded PV Panels. Because the Aurora has this feature I can essentially lose the output of 5 of the 9 panels in a string to shading and the Aurora will still produce output power. I know of no other grid tied Inverter (at this time) that has both of these features. Not to mention it's 96% efficiency rating (94.5% CEC) of which I'm seeing 93-94+0n a daily basis.
But, in the time that elapsed since I signed the contract and when installation was tentatively scheduled to take place (maybe April, maybe May) Kyocera up'd the output of the panels to 190 watts. So now I'm up to 3420 watts. See, who says procrastinating is bad? But the downside was, Solar Panels are in short supply I was told due to a shortage of the raw materials to make them, in this case the silicon wafer material, any PV panels were hard to get. Well, while still waiting, Kyocera again up'd the output of the panels to 200 watts, so now I'm looking at 3600 watts, getting closer to that 4000 watts, maybe if I hold off until December 2006....
On June 7th, 2006 Andrew and Chad of H&H showed up to begin the installation, and work continued on the 8th. On June 8th, the Pine trees came down. The final work was scheduled to be completed on the 15th but WE Energies was not able to be on site until the 27th so work was completed on June 27th and the system went online that day around 18:00 CDT.
Oh and I would be remiss if I didn't thank the people over at Focus On Energy who helped this sometime blockhead understand their Grant calculation procedure.